The ongoing recount in the U.S. state of Georgia has revealed thousands of votes that were left out of the Nov. 3 general election, according to officials in multiple counties.
By the end of Nov. 18, Floyd, Fayette, and Walton counties had reported the discovery of memory cards with a total of more than 5,500 votes that had been uploaded to the state's system. The majority of these were for incumbent President Donald Trump, who, prior to the recount, lagged behind Democratic challenger Joe Biden by 14,000 votes.
The Trump campaign has mounted a massive legal effort to contest the outcome of the Nov. 3 presidential election in several key swing states, one of which is Georgia. The state began its recount on Nov. 13, and had until 11:59 p.m. on Nov. 18 to complete the task across its 159 counties.
On Nov. 16, Floyd County election workers found a memory drive with more than 2,600 uncounted votes. Most were for Trump, and net the president an extra 800 votes against Biden. Georgia voting system manager Gabriel Sterling told The Atlanta Journal-Constitution that the failure was a matter of human error, and ruled out faulty equipment.
On Nov. 17, another 2,755 votes were found in Fayette County, of which nearly 1,600 were for Trump. Walton County on the same day reported another 224 unreported ballots; the three counties total an extra 1,400 votes for Trump, yet still trailing behind Biden.
Beyond the recount
While Georgia's audit of its election results was triggered automatically as the result of newly promulgated state law, a number of witnesses as well as Trump supporters believe that the outcome of the race has suffered from fraud.
The president's team alleges that Dominion Voting Systems, which serves Georgia and 29 other states, was behind the illicit switching of votes from Trump to Biden. The private vendor denies the charge.
During the recount in DeKalb County, a monitor discovered an extra 9,626 votes that had been mistakenly added to the new total for Biden, according to the chairman of Georgia's Republican Party.
One batch was labeled 10,707 for Biden and 13 for Trump — an improbable margin even by DeKalb standards. The actual count for the batch was 1,081 for Biden and 13 for Trump," David Shafer wrote on Twitter.
The error was quickly corrected; however, Schafer raised further concerns about the process, as two official counters had given their signature approval on the miscount.
"We were limited to one monitor for every 10 counting tables and we were kept some distance from the tables. There is no telling what we missed under these unreasonable restrictions," Shafer said.
GOP lawyers have submitted an affidavit regarding the miscount to Georgia Secretary of State Brad Raffensperger as part of their request for an investigation.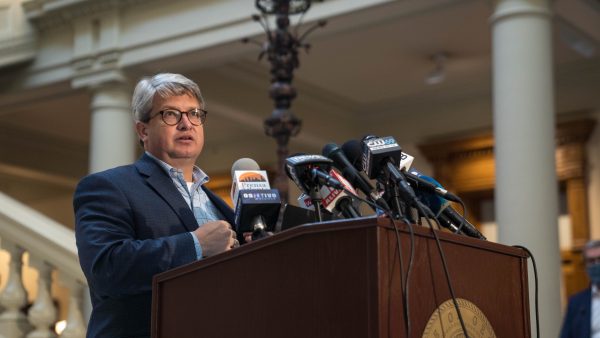 'Total disarray'
Lin Wood, a prominent attorney on the Trump team, submitted multiple affidavits on Nov. 17, hoping to halt the certification of Georgia's results.
In their sworn testimonies, witnesses to the Georgia recount said they saw ballots that had been cast for Trump instead counted as though the voters had chosen Biden.
Nine affiants swore that they had witnessed hundreds of ballots that appeared without any creasing, indicating that they had never been placed in an envelope despite supposedly having been mailed in. Some of the witnesses said the ballots appeared to have been filled out by machine.
Witness Susan Voyles said in her affidavit that the recount process was in "total disarray."
A poll manager with 20 years' experience handling ballots, Voyles said that a batch of ballots she saw while performing auditing duties on Nov. 14 appeared suspicious.
"I observed that the markings for the candidates on these ballots were unusually uniform, perhaps even with a ballot marking device," she said. "By my estimate in observing these ballots, approximately 98 percent constituted votes for Joe Biden."
She also said that the ballots were "pristine," as though "they were intended for absentee use, but had not been used for that purpose."
According to Voyles, absentee ballots almost always show signs of manual handling, such as creases, as they must fit in an envelope. But there "were no markings on the ballots to show where they had come from, or where they had been processed," she testified.
Follow us on Twitter or subscribe to our email list