The Chinese Communist Party's propaganda and ideologies have received a boost from U.S. companies that self-censor and comply with the CCP's demands to access and compete in China's market.
The expectation that U.S. companies will apologize for offenses and make corrections according to CCP demands has been stepped up since 2016. It has been most notable during the 2019 Hong Kong protests. While the entertainment industry has been under the CCP's thumb for years, other business sectors are also affected.
U.S. sports, retail, consumer electronics, hotel, and airline companies' compliance demonstrate a willingness to bend their ethics to enter the lucrative Chinese market. Ignoring human rights, including forced labor and freedom of speech violations, may put them at risk for violating U.N. human rights international standards. Faced with public scrutiny, some companies are forced to evaluate their ethical standards, as environmental, social, and governance (ESG) factors are increasingly important to investors seeking company adherence to standards that include human rights.
CCP's indirect use of US companies for propaganda
The entertainment industry has long complied with the Chinese government's directive to stay away from topics such as Tibet, Taiwan, Tiananmen Square, the South China Sea, Hong Kong democracy, and the Falun Gong spiritual movement.
Portraying subject matter including the above-mentioned topics will lead to a company's productions being banned from China and may get film stars and directors blacklisted. Other industries face similar restraints
In a report released by the Human Rights Foundation, in June 2020, a number of companies are mentioned in their assessment of corporate intimidation and censorship in China. Censorship and self-censorship are used to appease the CCP and maintain access to the Chinese market. Large multinational corporations choose to tailor their messaging and branding in order to not "offend" the Chinese government. In changing their messaging, they lose their own freedom of speech and act complicit with human rights abuses occurring within China, for the sake of acting on behalf of shareholder interest.
Examples of U.S. companies that censor or apologize after being admonished by the CCP for using language, imagery, or express support for a pro-democracy movement, can be seen in various business sectors. Companies that show Taiwan as a country on their websites or any products will be told by the CCP that "the island is part of China, make necessary corrections, and apologize publicly." It encourages other companies to self-censor, under the pressure of being bullied by the Chinese government with threats of losing access to their market.
Global Airlines, like United and Delta, and hotel chains such as Marriott have taken reference of Taiwan as a country off of their sites. After the Houston Rockets general manager, Daryl Morey, tweeted his support of the Hong Kong protestors, a ban of Houston Rockets games on Chinese state owned TV and Tencent channels in China went into effect. The NBA was intimidated into adopting a public stance that supports non-interference into the Hong Kong pro-democracy protests, in order to prevent further blackouts of their games in China.
While supporting freedom of speech at home, apparel companies have shown CCP compliance by pulling items deemed offensive in China. Nike, for example, has promoted NFL player Colin Kaepernick as a champion of free speech for his position on racial inequities, yet pulled items from sale because they feature products from a designer who supports Hong Kong protestors.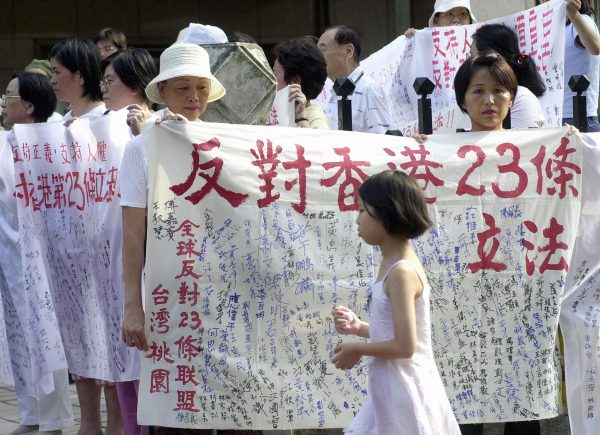 Tech interference with users
We have seen technology companies censoring American users at home in other instances. Zhou Fengsuo, one of the student leaders during the Tiananmen Square massacre and currently a U.S.-based human rights activist, held a memorial of the massacre over Zoom on June 4, 2020, which people in mainland China attended. Soon afterward, his account with Zoom was terminated; but was reinstated after a media outcry.
Zoom responded to the incident stating, "Just like any global company, we must comply with applicable laws in the jurisdictions where we operate. When a meeting is held across different countries, the participants within those countries are required to comply with their respective local laws. We aim to limit the actions we take to those necessary to comply with local law and continuously review and improve our process on these matters. We have reactivated the US-based account." This was not the first time a technology company singled out Zhou for his role as an activist. LinkedIn had blocked his account from being viewed on its Chinese platform and had to restore his profile after public backlash.
Human rights and ESG
In HRF's report on corporate intimidation and censorship in China, UN guidance states that corporations should conduct business based on UN human rights standards, which include; "freedom to hold opinions without interference and to seek, receive, and impart information and ideas through any media and regardless of frontiers." Companies like Nike and the NBA contradict this standard in their response to the Hong Kong pro-democracy protests.
Human rights and investor concerns converge when measuring a company's ESG rating. The environmental, social, and governance (ESG) stance of a company is an indicator of better financial performance. As investors expect a company's high ESG rating, businesses will review their human rights policies as a factor. How much China's human rights violations will factor into a company's ESG rating remains to be seen, but some businesses are beginning to move in a positive direction.
Demonstrating social consciousness about human rights violations in China, large retailers like H&M have cut ties with Xinjiang suppliers, where the Uyghur Muslim minority population has been subjected to forced labor and genocide.
The call to action to end forced labor in Xinjiang has rallied the investment community to pressure retailers to review their supply chain to ensure that labor and goods do not include the Uyghur population in forced detention. The CCP has spoken out against clear evidence showing the genocide of the Uyghurs as "fake news." Still, as the genocide has been internationally recognized, very few companies would promote the Chinese government's stance on the issue.
Follow us on Twitter or subscribe to our weekly email