Georgia began a manual recount of ballots across all its counties on Nov. 13, owing to widespread controversy over the results of the 2020 U.S. presidential election. However, the process does not include the verification of mail-in ballot signatures and other measures, eliciting renewed concern from the Republican Party and President Donald Trump.
According to the GOP and the Trump campaign, the recount process in Georgia still lacks several key elements to ensure accuracy and credibility, and would be virtually meaningless without stronger audit procedures.
On Wednesday (Nov. 11), Georgia's Secretary of State, Republican Brad Raffensperger, announced a complete manual recount in all 159 counties in the state.
However, Republicans argue that essential procedures, such as checking the signatures on mail-in ballots, are absent from the process.

Allegations of voter fraud in the Nov. 3 election between the president and Democratic contender Joe Biden have centered on the validity of mail-in ballots, which are a new feature in most states. Many whistleblowers have noted multiple apparent discrepancies, such as ballots belonging to deceased persons, ballots bearing the same signature, uncharacteristically large numbers of Biden-only votes, as well as a lack of transparency in the poll monitoring system.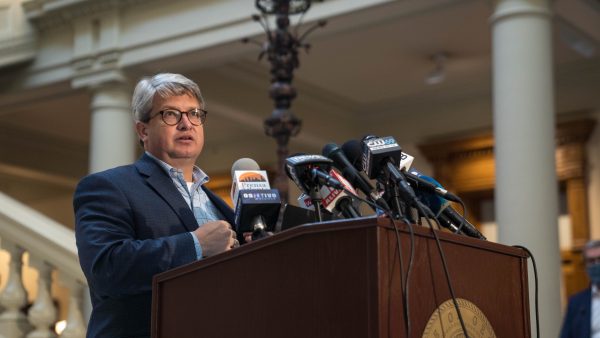 Georgia's state GOP chief, David Shafer, and Republican congressman Doug Collins wrote a letter to Raffensperger on Thursday (Nov. 12) emphasizing that the training and instructions given to recount personnel do not meet the goals Raffensperger outlined on Wednesday and do not address the concerns raised by the original election results.
Success
You are now signed up for our newsletter
Success
Check your email to complete sign up
Both Shafer and Collins noted that the audit of Georgia's recount process did not include a review of whether two signatures match on absentee ballot applications and envelopes.
Recount must address discrepancies
Shafer noted that in 2018, of 230,000 absentee (mail-in) ballots cast in the state, 3.5 percent were rejected as invalid. Yet "in 2020, when more than 1.2 million absentee ballots were cast, the rejection rate fell to 0.3%. Did the massive increase in ballots overwhelm the verification process?" he questioned.
Shafer and Collins consider signature verification to be a fundamental part of the counting process, and their letter expresses serious concerns over it, stating in a letter, "This raises serious concerns as to whether the counties properly conducted signature verification and/or other scrutiny of absentee ballots. In fact, it presents the issue of whether some counties conducted any scrutiny at all."
They continued, stressing that, "We do not believe it is possible to certify the results of the 2020 General Election without conducting this investigation and analysis."
Chairman @DavidShafer and Congressman Doug @CollinsforGA ask Secretary of State to take control of hand count of ballots and provide promised transparency. https://t.co/O0j46fVIlq

— GAGOP (@GaRepublicans) November 12, 2020
On Friday, Nov. 13, President Trump tweeted: "Georgia Secretary of State [Raffensperger], a so-called Republican (RINO), won't let the people checking the ballots see the signatures for fraud. Why? Without this the whole process is very unfair and close to meaningless. Everyone knows that we won the state. Where is @BrianKempGA?"
Brian Kemp, mentioned in Trump's tweet, is the Republican Governor of Georgia. Governor Kemp is a supporter of President Trump, but no public statements have yet been made from Governor Kemp regarding the new issues in the recount process.
Schafer and Collins demanded that the designated poll watchers should be given "meaningful" access to the audit process. They also noted that the recount procedures published by the State of Georgia allow only one designated reviewer for each auditing team — meaning that each reviewer would have to oversee 10 tables of poll workers.
They stressed again that a very important issue in this election is transparency.
In addition, they criticized Raffensperger for not providing guidance concerning "the necessity of maintaining the security of the ballots, the transporting of ballots, and documenting the chain of custody as required by law."
Follow us on Twitter or subscribe to our email list