China Insights
On March 1, Communist China imposed a ban on pineapple imports from Taiwan, having announced the action days prior. Ma Xiaoguang, spokesman for Beijing's Taiwan Affairs Office, claimed that the ban was implemented because the People's Republic of China (PRC) customs had detected invasive pests in the pineapples on multiple occasions since last year.
But the mainland business community and other observers sensed the political motive behind Beijing's move, which one Taiwanese scholar says is both to punish the island's independence-minded leadership as well as bolster the PRC's own pineapple industry.
Meanwhile, Taiwan's Chairman of the Council of Agriculture, Chen Chi-Chung, hit back at Ma's claim, citing a figure indicating that 99.8 percent of Taiwanese pineapples exported to the mainland passed regulations. "Last year only 13 pineapples out of 6,200 shipments" were affected, he said on Feb. 26, while noting that the problems were also present in mainland Chinese crops.
Beijing sees Taiwan, which is officially called the Republic of China (ROC), as a rightful part of the PRC. The ROC is a constitutional-democratic state, though not recognized by the United Nations as a sovereign nation because of the "One China" principle.
In response to the pineapple ban, mainland Chinese traders have begun preparing for PRC bans on other Taiwanese agricultural products by reducing or stopping orders. Meanwhile, the Taiwan government and local companies mobilized to absorb the losses, ramping up domestic consumption and enlisting foreign help.
This was not a mean feat, since Taiwan exports 40,000 tons of pineapples to mainland China annually, constituting 95.2 percent of the island's total export. To consume all of the product, each of Taiwan's 23 million people would have to eat 18 kilograms of the fruit. However, Taiwanese farmers soon received good news.
Countering the pineapple ban
Days after the PRC ban, Taiwan president Tsai Ing-wen announced that hundreds of businesses had stepped in to fill demand, while rerouting a large portion of the pineapple to foreign buyers. For example, 5,000 tons were quickly exported to Japan.
"The representative offices of various countries in Taiwan have also expressed their support for Taiwan's pineapples," Tsai said, referring to the de facto embassies most countries have in Taiwan in lieu of official diplomatic missions.
By noon of March 2, less than 96 hours after the PRC notice, orders had reached 41,687 metric tons, surpassing the total amount sold to mainland China last year and reaching 82 percent of the 2021 export target.
"I would like to thank our international friends for their support, [and] especially to our colleagues from all walks of life in Taiwan," Tsai continued.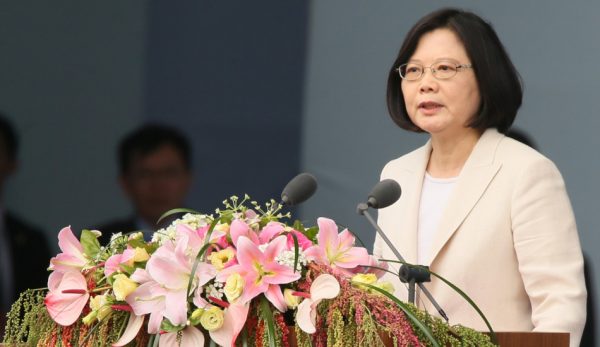 On the day of the ban notice, the Taiwan Agricultural Committee immediately created a plan, including for 30,000 tons to be re-sold to other countries and 20,000 tons to be used for diversified processing and domestic marketing. After the ban was made public, many Taiwanese took action, including local businesses who made advance orders. For example, Taiwan's Zhonghua Telecom announced the immediate purchase of 30 metric tons of pineapples as gifts for its employees.
The American Institute in Taiwan (AIT) posted on its Facebook page, saying "Have you had a PINEAPPLE today?" followed by hashtags #realfriendsrealprogress" #pineapplesolidarity. The Canadian representative office in Taiwan also posted a photo of pineapples and Hawaiian pizza, saying, "Love pineapples on pizza, especially those from Taiwan!"
The Japan Taiwan Exchange Association shared photos of the association's staff eating pineapples.
The ban also led to soaring sales of pineapple tarts, a popular snack that originated in Taiwan. Posts on Twitter show the tarts were sold out in many American supermarkets.
Economic pressures
Taiwan President Tsai's party, the Democratic Progressive Party (DPP), favors eventual independence for the ROC and a separate national identity from mainland China. Tsai and the DPP are objectives of derision in Communist Chinese propaganda, which threatens to cut off Taiwan from its economic links with the mainland, and if necessary, resort to military conquest of the island.
Aside from the political motive, though, the Chinese Communist Party (CCP) could be using the ban in an attempt to allay economic difficulties at home.
Taiwan economist Wu Jialong believes that the PRC government could be dangerously low on foreign reserves, which would make it hard for China to afford too many imported goods. Wu noted that in recent years, it's become harder to see large numbers of Chinese tourists visiting shopping malls not just Taiwan but also in Japan, France, and the UK.
In addition, starting in August 2019, the CCP put bans on mainland Chinese from visiting Taiwan, whether as individuals or with tourist groups, in an attempt to warn the Tsai government against pushing for Taiwan independence. However, another practical reason for the bans is probably also to axe tourism spending and preserve mainland China's foreign reserves.
Wu added that the CCP announced a ban on Australian beef and wine imports last year, ostensibly in retaliation for Australia's support for an independent investigation into the origin of the pandemic. Like the actions taken against Taiwan, this move was probably also due to a lack of foreign currency.
Stolen expertise
In 2020, China saw a net trade surplus of over $500 billion, yet its foreign reserves only increased by about $100 billion, indicating larger outflows. It is possible, even likely, that the Chinese government is facing a foreign exchange crunch. Foreign investment is leaving; corrupt officials are moving their laundered money abroad; and the CCP lavishes large sums of money on foreign client states.
Another view is that because the CCP has stolen Taiwan's agricultural expertise, Taiwan pineapple production now competes with the industry in mainland China. Beijing may have banned Taiwanese pineapples out of a desire to protect production.
A Chinese trader told the media that in addition to Taiwan, China also imports from Southeast Asian countries like Thailand and the Philippines. A small portion of pineapples comes from Central and South America. Mainland China produces about 2 million tons a year, of which more than 60 percent comes from Guangdong, as well as Hainan island and the Leizhou Peninsula. Hainan in particular has stepped up production in recent years.
On Feb. 28, the Communist Party-run Global Times published an editorial warning that "banning pineapples does not count as a card at all, and it is not necessary for us to say explicitly what cards there would be. Let's leave the DPP authorities to their nightmares."
The DPP is the party of Taiwan's president Tsai Ing-wen. The Global Times editorial serves as a warning that banning imports of Taiwanese pineapples is just one step that Beijing could take to punish Taiwan. Though Global Times does not elaborate, it could be assumed that the CCP will consider targeting other Taiwanese agricultural products.
By Linda Chen. Lucy Crawford and Leo Timm contributed to this report.
Follow us on Twitter or subscribe to our email list